The distinct character of Danforth Avenue may be best known for its predominantly low-rise built form of 2 and 3-storey buildings. While the west end of Danforth is the popular and densely built Greektown, east of Pape Avenue there are occasional parcels with surface parking between older buildings. In recent years though, development applications have been received by the City that would see more density and life added back into this neighbourhood, and intensifying the built form in the process. Such is the case with the property at 1177 Danforth Avenue.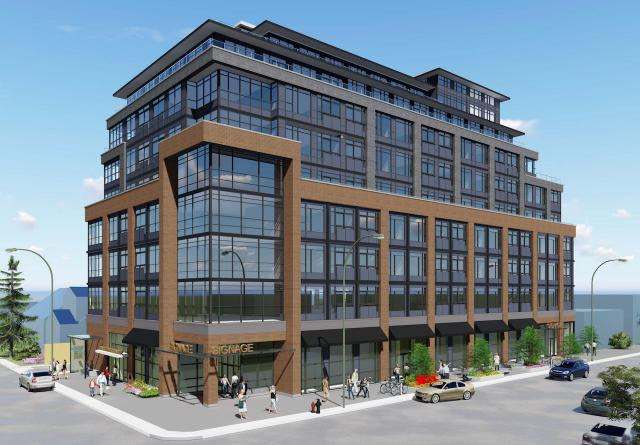 Revised rendering, image retrieved via submission to the City of Toronto
Back in June 2015, a rezoning application was submitted to the City of Toronto by the applicant, 1177 Danforth Avenue Ltd., for the construction of a 9-storey mixed-use building on the southwest corner at Greenwood Avenue. The site is currently occupied by aBeer Store and its surface parking lot. In the time since the application, the development led by Sierra Building Group and Fortress RDI is currently undergoing Site Plan Approval, with the design going through a process of revisions.

Aerial view of the site, image retrieved via submission to the City of Toronto
Named "The Greenwood", the Kirkor Architects + Planners-designed residential condominium would rise 102 feet, with a total gross floor area of 7,891 m², 596.85 m² of that dedicated to retail space. The development would include 102 residential units, comprised of 9 bachelor units (495 ft²), 72 1-bedroom units (635 ft²), and 21 2-bedroom units (1,044 ft²). 68 Vehicular parking spaces would be provided in 2 levels of an underground garage, and accessed at the rear of the site from a driveway off Greenwood. At-grade, 119 bicycle parking spaces will be provided for the residents of the Greenwood. Servicing for the retail space, as well as garbage pickup for the building will also be accessed from the rear from a separate entrance.